Bring your friend - get 300 rubles for a bonus card!
Do you still have friends who don't have ARNY PRAHT accessories? If yes - it's okay! You shouldn't point fingers at them and throw oblique glances at them ;) Just advise them on our brand and do it with the new referral program!
Now you get 300 bonuses (1 bonus = 1 ruble) for each friend you bring to the virtual loyalty card. It's simple: in your personal cabinet on arnypraht.com there is a window with your personal promo code number - give it to your friends who have never bought at ARNY PRAHT and get gift bonuses! And in turn, the new client of the brand will not be left without a gift - he will get a 10% discount on the first purchase.
Three simple steps:
1. Get a promotional code: register on our website and find it in your account profile.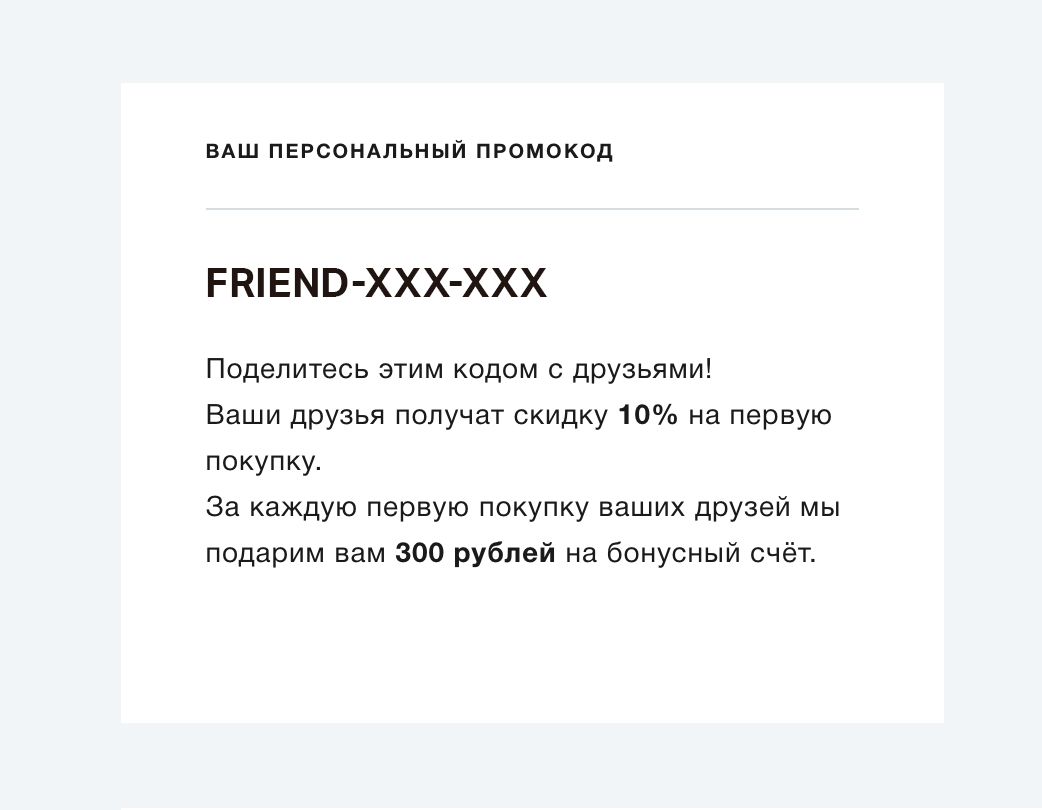 2. Give the promo code to a friend
3.
When buying online:
when placing an order, your friend must insert a promo code in the "I have a promo code" box, the discount will be applied automatically and the bonuses will be credited to your account as soon as the parcel is delivered.
When buying in an offline store
: Your friend just needs to show the promo code to a consultant.
Important:
The promotion code only works if your friend makes his first purchase at ARNY PRAHT. Application requires accompanying registration in the loyalty system (there will be a link to what it is)
Promo code does not add up with valid discounts.
You will be informed about bonuses accrual for your friend's purchase by SMS message.
In addition to the discount, your friend gets 5% from the first check to his bonus account.
---